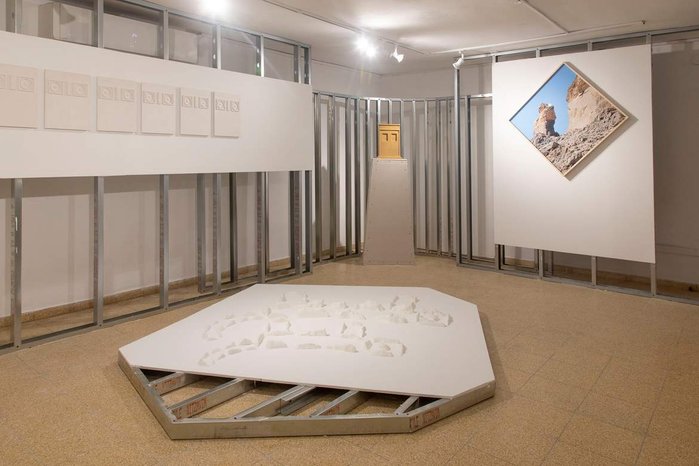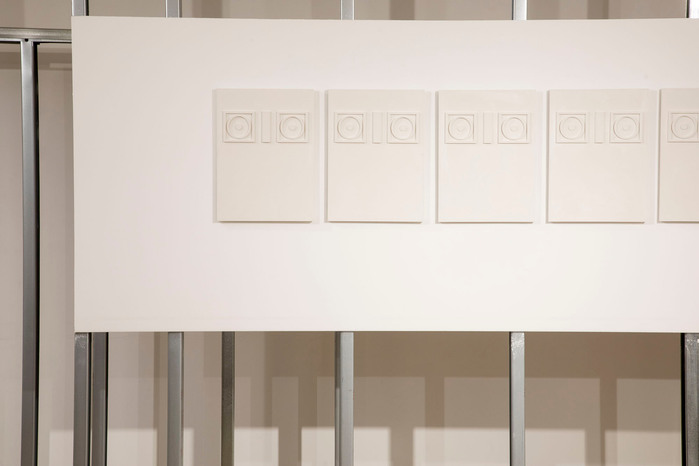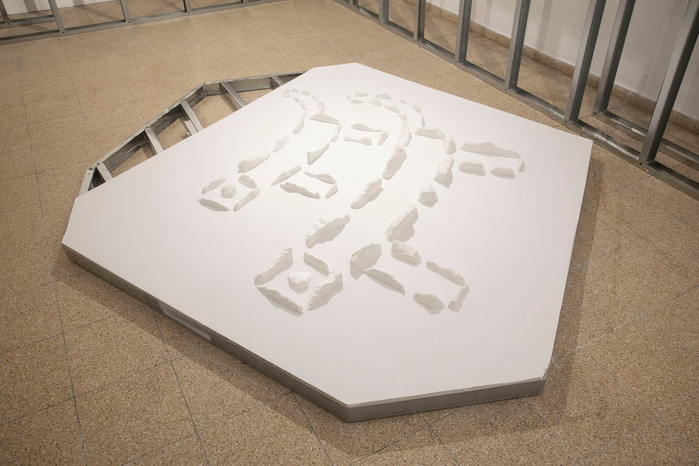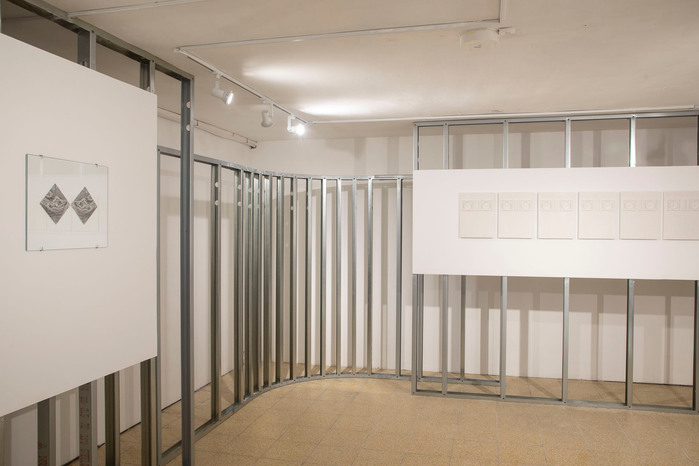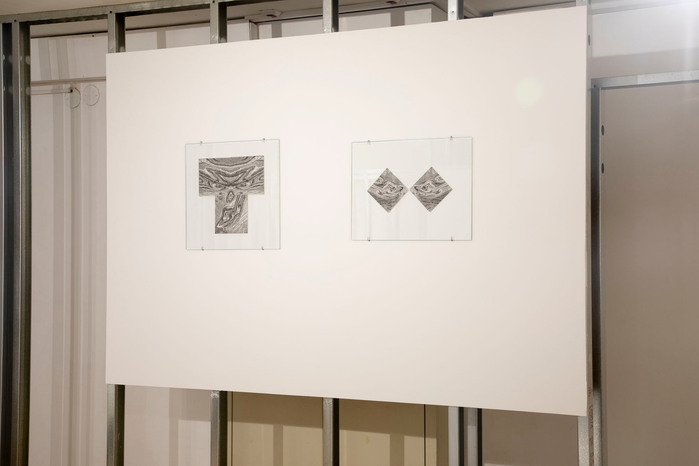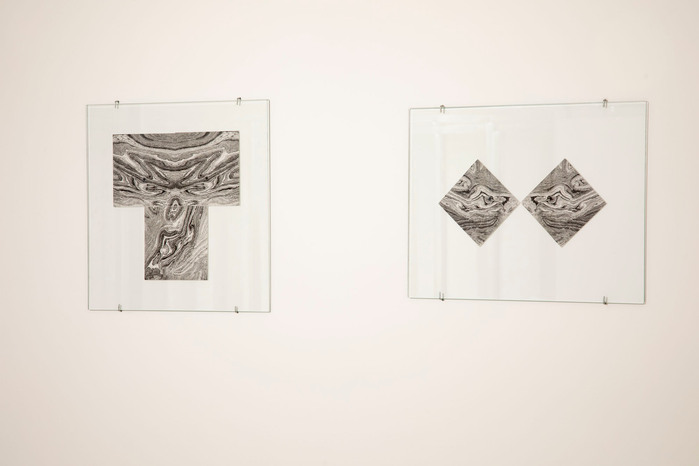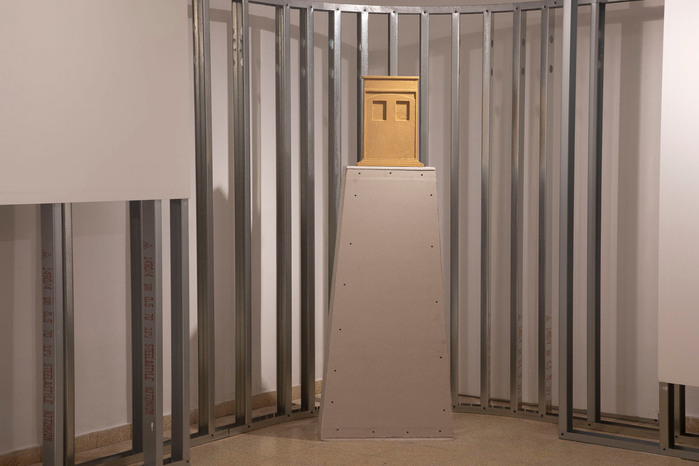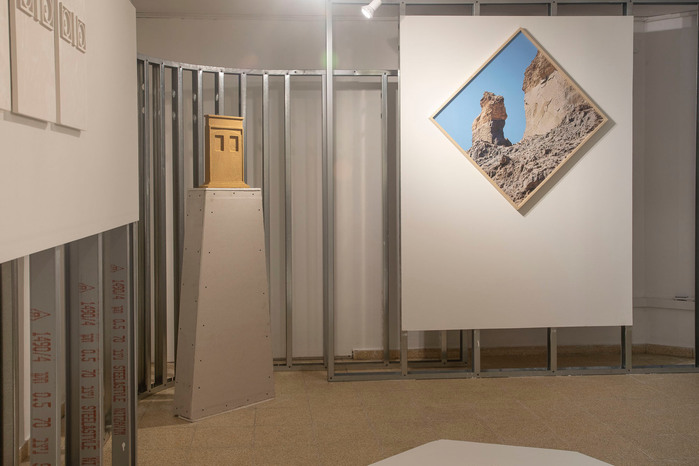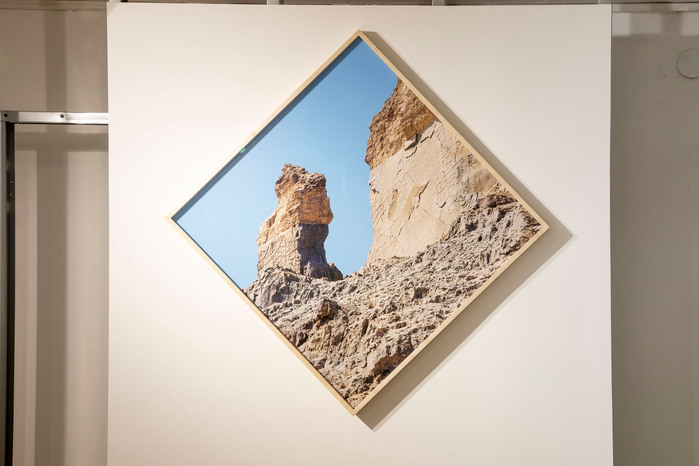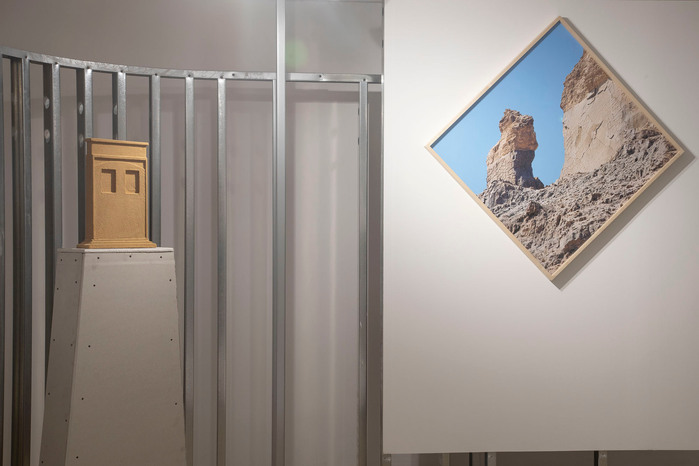 Neo-Lith / Udi Edelman
The exhibition Neo-Lith creates an enveloping architectural space composed of ancient sculptures and cult images. Assaf Evron engages with prehistoric sites where objects and forms were personified, transforming them into keys to the universe and the origins of meaning. What happens when humans identify patterns in the landscape, forms and objects as a face and body. What meaning have they accorded to them from the very beginning of history, and how do they evolve as characteristics of culture. Evron walks through ritual sites and examines manifestations of ancient animism. Abstract forms that become spiritual images for humans, the reason for things, and God revealed in facial features and a body. The face of God carved into rock, temples of stone, and landscape that have been accorded divine meaning through human glance and imagination.
Installed on a stage in the center of the space is a replica of details from Leopard Temple near Uvda. This an ancient ritual site was built by arranging simple desert stones in the form of a leap of leopards, mothers with cubs, facing east, and a headless oryx. Exact replicas of the original stones were made by means of 3D scanning, and printing them as two whole figures. This is the simplest way of imagining the making of a human image. The ritual site was active for 4,000 years, from the sixth century BC, and was repeatedly arranged as a performative expression in ancient ritual ceremony.
Carved onto the side of Givat Yokheved near Eilat is the figure of a Nabatean goddess. She is shaped like a headstone with windows for eyes. Her positioning is unusual, high on the rockface, and she was probably carved by Nabatean miners. Evron transforms her into a three-dimensional structure, a kind of temple that is also an aesthetic object, and whose glance is clearly distinguishable. Facing her is a series of cast plaster objects, treated replicas of an eye idol made from stone which was found in Petra. Their replication and parallel installation become a decorative architectural pattern. A form indicating how ancient animism was assimilated into culture throughout history, and becomes commonplace in the visual space surrounding us – with fences, buildings, and modern symbols. The entire project space is built from plaster constructions partially covered with boards, leaving the infrastructure exposed. It requires us to pay attention to the structures that facilitated the cultural logic derived from the evolution of ancient ritual constructs to the present day. The architectural surroundings position the sculptures, images, and wall art as an engineered and replicated space that confronts people with themselves and with the culture that shapes them.
The central photograph features a pillar of salt on the foothills of Mount Sodom. This image is identified with the story of Lot's wife, although it is a late identification, and as such is inconsistent with the biblical location. The pillar of salt presents a reverse mechanism wherein subject becomes object through the forbidden glance itself. This is a form of animism that identifies a stone as human, not a sublime entity – Lot's wife becomes an object, and a rock becomes a mythological image. This is also the hidden threat of ancient animism – do not turn to look; a direct look is reserved for God alone, and his glance constantly exposes you.